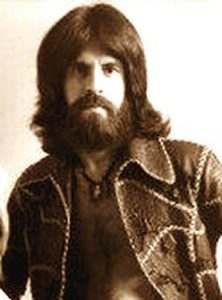 Updated October 16, 2016
Way back in 1976, as an anonymous pair of teenagers was making out in the back seat of a mist-green Chevrolet Impala, they heard a funky, soulful, perfectly crafted pop song with an awesome marimba solo, seeping through the single speaker of the car's AM radio. And as our friends came up for air, they heard the DJ say, "That's 'Moonlight Feels Right' by Starbuck, featuring former Mouseketeer Bo Wagner on the marimba!"
As my old Nana told me, "Reverbo, Bo Wagner fue el gran Ratón peludo que podría golpear los bloques de madera!"
But… Bo Wagner wasn't a former Mouseketeer, at least by the usual Baby Boomer standards of Mouseketeeriness. George Grant's Original Mickey Mouse Club Show website profiles every kid and adult who ever donned the mouse ears, including such obscurities as Dallas Johan and the Rooney Brothers. Check the list: there ain't no Bo Wagner. The Wikipedia entry for The Mickey Mouse Club helpfully sorts all Mouseketeers into the Red, Blue, and White teams that determined the Mouseketeer pecking order. There's no Wagner on the chart, Bo or otherwise.
And yet in Starbuck's 1976-78 heyday, everyone "knew" that the guy who played the marimba was a Mouseketeer. How did we know this? Because we read it in the newspaper or heard it on the radio.
An Associated Press feature by longtime music writer Mary Campbell, widely-circulated in late 1976, noted that Bo "did featured performances with the Mouseketeers."
A story by Joe Frohlinger of United Press International, also from late 1976 and extensively re-printed, described Bo as "a standup comic at 5 and a Mouseketeer too."
A September 1976 article by John Fisher of the Bucks County (PA) Courier Times said that Bo was "a tap-dancing former Mouseketeer" and that "his credits include the original Mouseketeers." Fisher was prescient in using the term "original Mouseketeers" a year before The New Mickey Mouse Club hit the small screen.
A Circus Magazine feature by veteran rock journalist Jeff Burger, published in October 1976, labeled Bo "a former Mouseketeer."
In an interview with Starbuck's Bruce Blackman and Jimmy Cobb, released on a 45 for "What's It All About," a radio show sponsored by the Presbyterian church, host Bill Huie refers to Bo as "an ex-Mouseketeer from LA."
In late 1977, columnist Bill Crawford of the Lawton (OK) Constitution reported that, "At 10, Wagner became a member of the Mickey Mouse Club."
And finally, in December 1978, we find an episode of PM Magazine with this summary: "Virginia Gunn visits Bo Wagner who used to be 'Bobby' on the Mickey Mouse Club. Also a visit with a man who smokes marijuana every day legally." That must have come as an existential shock to Bobby Burgess, the tall, perpetually-smiling Mouseketeer who answered the Mickey Mouse Club roll call as "Bobby."
Although it seems obvious that the "man who smokes marijuana every day legally" is the subject of a completely different story, in a lengthy phone conversation I had with Bo Wagner he was quick to point out that he wasn't the dope smoker. "I don't smoke, drink, or do drugs," he said. "I was raised a Mormon."
So from what source springs the legend of Bo Wagner, the Mouseketeer? Are the current lists of Mouseketeers missing a mouse? As is often the case, the answer to the question "Was Bo Wagner a Mouseketeer?" is more complicated, and more interesting, than can be conveyed with a simple "Yes" or "No."
In 1956, ten-year-old Bobby Wagner was already a show-business veteran. An extraordinary drummer and dancer whose career began at age 5, he had toured the country performing with Ted Lewis, Tony Pastor, Ted Weems, Spike Jones, and the Glenn Miller Orchestra, then led by singer Tex Beneke. These names won't ring a bell for many souls younger than my Nana. But, back in the day, performing with these guys put Bobby Wagner solidly in The Big Time. More details, and some great pictures, from Bobby Wagner's days as a child performer can be found on Bo's own blog. The producers of the Mickey Mouse Club, and head Mouseketeer Jimmie Dodd, caught Bobby's act and recruited him to perform on the show.
On Fridays, the original Mickey Mouse Club was given over to Talent Roundup Day. The Talent Roundup shows supposedly featured young performers, from outside the Mouseketeer circle, who had won some sort of Disney-sponsored talent contest. In reality, the Talent Roundup "winners" were often Mouseketeers and their family members, such as Cubby O'Brien and his father, Disney actors such as Fess Parker and Buddy Ebsen, and professional acts like the Lennon Sisters. But along with the ringers there were a fair number of genuine new talents such as 11-year-old drummer Steve Gadd, who became one of the all-time great session drummers.
According to the Original Mickey Mouse Club Show compilation, Bobby Wagner appeared on Talent Roundup Day, October 19, 1956. "They gave me 15 minutes!" Bo told me. "They gave me more time than anyone."
Every guest who appeared on Talent Roundup Day was presented with a pair of ears, given the title "Honorary Mouseketeer," and awarded a "lifetime membership in the Mickey Mouse Club." So at that point, Bobby Wagner was, technically, a Mouseketeer. As reported by AP's Mary Campbell, he had made "featured performances with the Mouseketeers." As reported by Bill Crawford, he had become "a member of the Mickey Mouse Club" when he was given his lifetime membership. And, as reported by Virginia Gunn on PM Magazine, he was "'Bobby' on the Mickey Mouse Club." But if we accept a Talent Roundup Day appearance as the standard for being a Mouseketeer, then the Lennon Sisters, Cubby's father, and Buddy Ebsen were also Mouseketeers. And I don't recall anyone saying that Jed Clampett was a Mouseketeer.
But wait… Bobby's involvement with the Mickey Mouse Club did not stop with Talent Roundup Day, as implied in the original version of this post. The show's producers, obviously impressed with Bobby, offered him a contract to join the show. This violated their own rule against hiring boys younger than 12. The younger boys were just too disruptive and difficult to manage. George Grant's website tells us that "out of fourteen kids under age 12 hired for the first season, only three stayed on for the next season. After the first season, no boys under age 12 were ever again hired." It helped that Bobby was a dancer. According to George Grant, "all kids hired [after the first season] were first and foremost dancers." Almost all skits involved singing and dancing. In a group setting you can fake the singing. You can't fake the dancing, and the show needed dancers.
But Bobby's father turned down the contract. Today, with 60 years of Mouseketeer-worshipping in the rearview mirror, that seems like a terrible business decision. In 1956, though, The Mickey Mouse Club was just another TV show, one that ended up in original production for only three years. Who knew that the kids who answered the Roll Call (Annette! Cubby! Dar-LENE!) would become icons of Eisenhower-era innocence?
And there were practical considerations. The show didn't pay much, only $185 a week during production. In off periods the paychecks dried up. The kids had to sign exclusive contracts, which would have required Bobby to put his already-booming and well-paying performing career on hold. And then there was the danger of getting lost in the shuffle. A total of 39 kids donned the Mouse Ears in the three years in which The Mickey Mouse Club was produced. How many can you name? For every Annette or Dar-LENE! there was a Billie or a Charley, talented youngsters who never made the Roll Call and were banished to the background, rarely appearing except in the group numbers. Besides, every show needs only one Cute Kid Drummer, and Cubby was already holding down that role.
"I'm not 'The Mouseketeer Who Wasn't There,'" Bo said, taking exception to the title of this article. "I'm 'The Mouseketeer Who Never Signed a Contract.'"
Even without a contract, The Mickey Mouse Club was able to utilize Bobby's talents. From the beginning of the show, and continuing after it ceased production, the Mouseketeers were involved in appearances and performances at, again quoting George Grant's website, "elementary schools, hospitals, department stores, charity events, and of course, at Disneyland. Multiple engagements per day were common." Bobby was enlisted to perform in these outside shows but, because he had not signed the exclusive contract necessary to join the television cast, he was able to continue his other lucrative gigs.
As live shows, there were no second takes, no chances to correct flubbed lines or mangled choreography. The producers needed performers who could deliver the goods. According to Bo, Bobby Burgess could dance, Tommy Cole could sing, Cubby was a great drummer, and Annette was good at signing autographs. But Bobby Wagner could dance, drum, sing, do comedy skits, and had a stage presence that many of the kids lacked. Thus, Bobby found himself performing with the Real Mouseketeers.
As far as Head Mouseketeer Jimmie Dodd was concerned, the distinction between Real and Unreal Mouseketeers was unimportant. At the performances, Jimmie Dodd always introduced Bobby as a Mouseketeer. "It was an absolute shock to me," Bo told me. After the first show, he went to Jimmie who reassured him, "You're a Mouseketeer." I guess if Jimmie Dodd says you're a Mouseketeer, then you're a Mouseketeer. But one wonders if Jimmie would have passed out the title so freely if he had known that, sixty years down the line, people would be making lists of Original Mouseketeers, sorting them into teams, tracing their Lives After The MMC, and lamenting those (the majority as it turned out) who seemingly dropped off the face of the Earth.
While few of the Mouseketeers had long-term careers in show business, Bobby, now known as Bo (he changed it when he joined the Screen Actors Guild since there was already a Robert Wagner on the books), was just getting started. After the Mouse Club folded, Bo joined Cubby O'Brien in Lawrence Welk's Junior Orchestra. After leaving Welk, Bo fronted various bands and ensembles, always playing the big rooms at Vegas, Lake Tahoe, and Reno. A review of a 1961 show in Tucson describes the Bo Wagner Quartet as "the wildest, noisiest, boomingest act you'd ever want to see. At one point, Wagner, drumsticks in hand, abandons his traps and frantically dances about the Skyroom dining room rat-tat-tatting on tables, chairs, microphone, pillars, dishes and an occasional customer to boot." Although the reviewer gave Bo's age as 21, he was actually only 15, doing three shows a night at 8:30, 10:30, and midnight.
It's worth noting that the advertisement for the gig  reads "Former Star of the Lawrence Welk Show." Nothing about being a Mouseketeer. One would think that, if Bo wanted to tell the world he was an ex-Mouseketeer, he would have included that in the ad.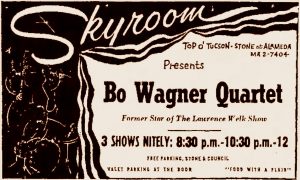 Dancing at places like the Skyroom ("Food with a Flair") must have been a less-than-optimal existence for someone who was too young to legally drive a car. The following year, Bo filed a suit asking the court to appoint him a new guardian. In the guardianship petition, Bo said he was the sole support of his father, mother, two brothers, and a sister. Newspaper accounts report that the rift between Bo and his father was eventually patched up with the help of Lawrence Welk. "My dad worked me to death," Bo said. But he credits his father with giving him his "good work ethic."
That work ethic resulted in an incredible professional life. The resume is too long to fit into this blog, but you can get the whole story of Bo's career as a musician, his career as a dancer, and his career as a child performer on Bo's website.
On the musical side, Bo was a session player, often working with legendary producer Gary Paxton. He was the touring drummer for the 5th Dimension. He toured with Liberace as a percussionist and supporting act. He was a marimbist and supporting act for Roger Williams. He was associated with a number of LA-based acts such as Michael Martin Murphey's Lewis and Clarke Expedition (though good luck finding a credit in the "official" biographies). And, along with future Starbuck front man Bruce Blackman, was a member of the cult-favorite group Eternity's Children.
There was also an early-70′s stint at Disney World where Bo worked twenty hours a day doing a bit of everything: he danced, drummed, appeared with various park bands, backed up the acts in the resort hotels, whirled around the park as the Dick Van Dyke chimney sweep character from Mary Poppins, and dressed up as a Mouseketeer.
Then came Starbuck, "Moonlight Feels Right," and the proliferation of stories referring – or inferring – to Bo's membership in the Mickey Mouse Club. As we have seen, the stories weren't really false, but they perhaps were not as true as we would like them to be.
"We didn't want to mention the Mickey Mouse Club or Lawrence Welk because we thought it wasn't hip," Bo said. So if Bo and the guys weren't hawking the story, who was?
Forty years down the line, it's impossible to know who said what to whom. One suspects that Mary Campbell's article, which appeared in newspapers all over the US, may have been an early Origin Story, one that was picked up, misinterpreted, and embellished by subsequent writers. The words she used ("… did featured performances with the Mouseketeers…") are definitely true enough and do not say that Bo was actually a Mouseketeer or a member of the Mickey Mouse Club. But the words are ambiguous and could easily be misinterpreted. And the phrase is very similar to words Bo himself has used to describe his involvement with the MMC. According to Bo, the Disney people told him to describe his association with the MMC as a "featured dancer and performer," and he was always careful to use those words.
Thus it seems logical that Mary Campbell's information came from a bio distributed by the band, the record label, or perhaps by Disney or even the Lawrence Welk show. Who knows? Mary Campbell died in in 2012, leaving behind a legacy of solid music journalism. So she isn't returning my calls.
Jeff Burger, the Circus Magazine write who labeled Bo "a former Mouseketeer," is still around and was kind enough to respond to an inquiry about the source of his information. "I certainly didn't make this up and it appears it didn't come from Bo, either," he wrote. "This was 40 years ago so my memory is a little foggy, but I think it's a pretty safe bet that I picked it up from the printed bio provided by the record label." My apologies to Jeff for misspelling his name in the original version of this post.
It would not be a stretch to imagine that the legend of Bo Wagner the Mouseketeer (a legend, rather than a myth, since a legend has a factual basis) was promulgated by an overly enthusiastic publicist or a vaguely-worded bio. At this point, as Jeff Burger pointed out, the trail is rather cold.
Like Mary Campbell, Virginia Gunn, who reported that Bo "used to be 'Bobby' on the Mickey Mouse Club," and Bill Huie, who referred to Bo as "an ex-Mouseketeer from LA," have passed on to that Great Newsroom in the Sky. I had no luck tracing UPI's Joe Frohlinger. Starbucks' record label, Private Stock, went belly-up in 1978. Their management company, Robert Holliday and Associates, merged with Atlanta legend Steve Cole's Discovery Inc. in the mid-70's and seems to have disappeared. The archives of Starbuck's music publisher, Bill Lowery Music, were purchased by a memorabilia collector and are in a warehouse in Florida. As the stylus nears the end of the LP, does anyone really care whether Bo Wagner was or wasn't a Mouseketeer? Apparently, a few people care, as evidenced by the (extremely) modest stream of people who wander onto this blog post, presumably having Googled "Bo Wagner Mouseketeer" or something along those lines.
After Starbuck dissipated, Bo opened the Bo Wagner Studio in Atlanta, providing instruction in a wide range of performing arts. He was obviously a very good teacher. Diane Gudat, a dance instructor who attended a master class taught by Bo wrote, "That one class with Wagner changed the path of my teaching career." Some of Bo's tap students from this period are among the those most active in promoting Bo's Mouseketeeriness, along with his abilities as a tap instructor.
Daria Ehler, co-founder of the Dietrich Dance Studio in Festus, Missouri, tells us that among her teachers was "Bo Wagner (one of the original Mouseketeers)."
Tracee Meyer, owner/director of the Cape Fear Cotillion of Wilmington, North Carolina, says that she studied tap under "Original Mouseketeer Bo Wagner."
In 1984, the Baytown (Texas) Sun reported that Jody Lindig, a resident of nearby Mont Belvieu, who had trained with "Bo Wagner, an original Mouseketeer," was learning to break dance.  Two years later the Sun announced that the same woman had entered the 1986 Mrs. Texas Pageant, and again noted that she had studied dance under "Bo Wagner, an original Mouseketeer."
Megan Blake, Miss Georgia of 1983, joins Honey Boo Boo as a proud product of the Georgia public school system when she describes her pageant experience: "I chose tap dancing as my talent, and my routine was coreographed [sic] by Bo Wagner, one of the origional [sic] Mouseketeers."
In 1987 the Seymour (Indiana) Daily Tribune reported that a group from the Dixon Dance Studio had attended Dance Olympus, a four-day dance convention at which the instructors included "Bo Wagner, one of the original Mouseketeers."
And also in 1987, the Nashville Tennessean reported that the Dance with the Masters series sponsored by the Metro parks service would feature instructor Bo Wagner, who "began his career as a Mouseketeer on Walt Disney's Mickey Mouse Club series."
Regarding the claims of his students, who seem to enjoy telling the world that they were taught by a Mouseketeer, Bo maintains, "I'm not saying I'm a Mouseketeer." But he admits that people are thrilled to meet, and work with, someone who was on the show and "they just run away with it. I gave up a long time ago trying to stop this runaway train."
During this period, Bo produced, arranged, and recorded a very large number of dance studio records with titles such as Tap'n, Turned on Tap, Tap'istry, and Mouseke-Tap, primarily for Statler Records. This is the music that dance instructors use in their classes and in their recitals. It isn't glamorous work – it won't win you a Grammy – but the people who are into dance instruction take it seriously. Usually, Bo said, someone "paid a minimal amount to get a copy band to make a shitty album." Bo tried to improve on that business model, and succeeded in delivering a quality product.
Turned on Tap includes a performance of "Cute," the old Count Basie song, featuring a delightful and all-too-brief vibes solo.
We can examine the biographies on the back covers of two of these albums for claims of Mouseketeeriness. The notes on Tap'n mention Bo's appearance on Lawrence Welk, but make no reference to his being a Mouseketeer, or having appeared on the Mickey Mouse Club. On the other hand, there's no direct reference to having been in Starbuck, either. The notes for Turned On Tap list sixteen shows on which Bo was "a guest star and featured dancer" including the "Walt Disney Mickey Mouse Club" and I Dream of Jeannie. Again, no claim to being a Mouseketeer, original or otherwise.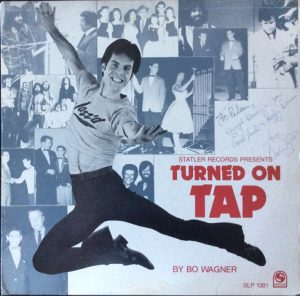 The front cover of Turned on Tap shows a montage of photos from throughout Bo's career but… no Mouseketeers. And of course the 12-year-old in me can't help but notice that the photo arrangement put Liberace in the worst possible location.
Today, random references connecting Bo and the Mickey Mouse Club are scattered across the Internet.
On Yahoo Answers, someone queries, "Can you tell what group Bo Wagner of the 70′s band Starbuck was once a member of before Starbuck?" The Best Answer mentions Liberace and Eternity's Children before concluding, "Oh wait, I just remembered from a 70s TV guest appearance: Bo was a Mouseketeer."
Someone who shares the Bo Wagner name says his famous namesake was "Rumored to have been on the Mickey Mouse Club show 'back in the day' …"
In the comments section of a YouTube video showing the original opening and Roll Call for the MMC, a user named Hardlines4 claims that "Bobby is Bo Wagner who played the Marimba solo on Moonlight Feels Right with the band Starbuck in the 70′s."
Then there's the discussion board (I won't link to it because it's full of malware) that says the marimba solo was provided by Cubby O'Brien. Close but no cigar.
The website for New Spirit Naturals tells us that "at the age of five, Dr. Bo was appearing in the original Mickey Mouse Club as a drummer and dancer."
Even former Starbuck guitarist Tommy Strain gets in the act. On his website, whoever designed the site says, "In addition to Tommy on guitar, the group featured former 'Mouseketeer' Bo Wagner…" I guess it's hard to convince people you weren't a Mouseketeer when your own guitarist is telling people that you were. The original version of this post included at least one quote from Strain (I can't remember what it was, but it wasn't very illuminating). But he asked me to remove all references to him, saying in an email that he did not want to be involved in "the legend of Bo Wagner." I didn't ask what he meant by that.
So where is Bo Wagner now? When this post first appeared, way back in 2013, the Starbuck biography on the "Moonlight Feels Right" website said that "Wagner's whereabouts are unknown." That line isn't there anymore. It must have been an inside joke because Bo was, and is, easily found.
Bo is now Dr. Bo Wagner, Nutritionist to the Stars. His clients include Cate Blanchett, Jenny McCarthy, Jessica Alba, and Halle Berry. Through his website, you can purchase "natural health and beauty products" such as Brain Magic (I'll think about it) and Colon Magic (I'll pass).
Bo's appearance has changed a lot since the Starbuck days, and his career path may be unique among former Top 40 musicians. He has neither burned out nor faded away. And, like it or not, Bo is still checking the MMC box on his resume, though with carefully chosen words. In "The Dr. Bo Wagner Story Part 1," available on YouTube, Dr. Bo, responding to his young interviewer's question about his background, says he "was a featured dancer and drummer on the original Mickey Mouse Club with Annette…" which draws an excited "Ha-HAAAAAAA!" from the interviewer.
Should anyone care whether Bo Wagner was an Original Mouseketeer vs. a Featured Performer? In an email, George Grant tells us to let it slide. "The distinction is meaningful only to those of us boomers who watched the show on broadcast television so long ago," he emailed.  "For the rest of the world it's all the same.  And perhaps that's not a bad thing, for to be quite candid a lot of talent winners were far more interesting performers than some of the Mouseketeers." The last sentence is definitely true as applied to Bo. He was more talented, and his life more interesting, than the vast majority of the genuine Original Mouseketeers.
As for being on the list of Original Mouseketeers, Bo said, "Being on that list would have been worth its weight in gold. But I've led a blessed life. I met 'em all and worked with 'em all. What a terrific blessed life this has been."
And that is the story of Dr. Bo Wagner. Maybe not an Original Mouseketeer, but close enough. And as my Nana said, "Jesús, Reverbo! Él estaba en que la Televisión Ratón con Annette. Ella tenía algo real bajo la camisa, si usted sabe lo que estoy diciendo!"
Bonus Video 1: Bo Wagner, Jack Imel, and Cubby O'Brien in a politically incorrect performance of "Chinatown."
Bonus Video 2: After the Mouse Club folded, Bobby Burgess moved on to the Lawrence Welk Show. He was with the Bubblemeister for many years, and married the daughter of Welk's accordionist, Myron Floren. Here we see Bobby and his kids in a National Geographic Special, reenacting the fertility dance of an ancient Southern American tribe.
I love the two kids on the right. You think you had it bad when your mom trotted you out in your pajamas to play "March of the Wee Folk" on the piano for her bridge club? Try doing the Chicken Dance in a gulag-like studio with your dad yelling "Reverse!" and Grandpa wheezing away on an accordion while you try to keep a toothy grin plastered on your face. There ain't enough Seroquel in the world to repress this memory. Plus it's on YouTube so it will be out there for, like, infinity.
Bonus Video 3: And finally, Starbuck performing "Moonlight Feels Right" in Atlanta's Chastain Park in 2013. They sound great! We're glad that, unlike Samson, Bo did not lose his powers along with his hair. And Bo says the band may record a new album in the near future.