Red Dog Guitars – Mewmaw's Clothesline
SONG OF THE DAY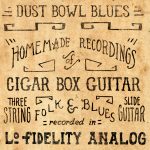 My primordial memories exist as patches: a white teddy bear, lost somewhere, the memory of the loss greater than the memory of the bear; my father's black car, carrying a bunch of bananas from the car to the house after he returned from the grocery, the bananas filling both of my tiny arms; the picture of the woman hanging sheets on a clothesline. The woman was on the right side of the picture, standing as she clipped the sheets to the line. To her left, the sheets rippled slowly in the summer air, suspended above the green grass of the back lawn.
Fast forward several years and the memory of the picture, long forgotten, bubbles up to the forefront of my consciousness. What happened to that picture? It must be around somewhere, since my parents never threw anything away. Casting about the house, I found the picture of the woman hanging sheets on a clothesline.
As a small child in central Tennessee, I had never experienced mountains, crags, or sheer granite cliffs. It was impossible for me to make sense of the scene depicted in the painting. I had, however, seen my Grandmother hanging white sheets on her clothesline. I remember toddling along after her, clutching a clothespin and handing it to her. The painting, then, was interpreted through the filter of my experience.
The picture was, coincidentally, painted by my Grandmother, Sarah Waldrop, a self-taught artist. Like me, she had never personally experienced mountains or cliffs. All of her paintings were copied from calendars, postcards, or pictures in magazines.
"Mewmaw's Clothesline" is from the album, Dust Bowl Blues – Cigar Box Guitar Music, by John McNair of Red Dog Guitars, released in 2010. All tracks on the album were played on three- and four-string cigar box electric guitars. To quote the notes on the album's Bandcamp page, "My goal with this album was to take the listener back to the 1880's to 1930's and relive those Dust Bowl Ballads and Delta Blues Guitar Spirituals played on cigar box guitars. There is no singing or band and no regular guitars."
A follow-up album, Cigar Box Americana – Cigar Box Guitar Music, was released this month.  The album comprises seventeen tracks of haunting, primitive music. "Huntz Meyer" is a good example. In the shimmering tones one can hear blues, country, and the ungerminated seeds of rock.
To hear more music cigar box music, visit the Bandcamp page for Red Dog Guitars. And be sure to visit their website, where you can order the guitars themselves, or order a DVD that demonstrates how to build your own cigar box guitar.